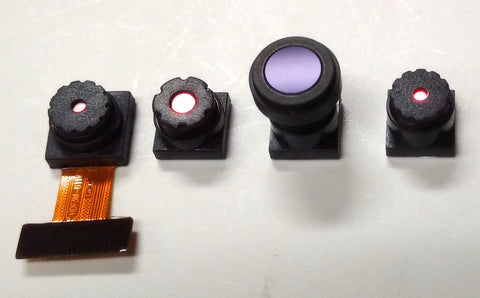 JeVois 2MP Sensor with Standard, 90deg, 120deg and NoIR Lenses
Real-Time Inventory Available
All in-stock items usually ship within one business day.
---
---
For JeVois-A33 only - not compatible with JeVois-Pro.
This is a replacement sensor for your JeVois-A33 camera, with a total of 4 lenses.
It uses an Omnivision ov2640 sensor chip instead of the original ov9650 sensor chip of JeVois-A33. The ov2640 has higher resolution (max 1600x1200) which allows you to detect and identify smaller objects. Of course, running a machine vision algorithm at a higher resolution usually implies that it will run at a lower framerate.
This sensor features the same lens as originally included in your JeVois-A33 camera (field of view 60 degrees horizontal). In addition, this combo adds 3 useful lenses that can be attached to the sensor: no-distorsion 90deg, wide-angle 120deg, and NoIR for night vision.
To activate this sensor, you need to write a file called 'sensor' with contents 'ov2640' on the boot partition of your microSD card. More information at jevois.org
Note: opening the case of your JeVois camera voids your warranty. So please proceed with caution.
---
We Also Recommend
---